During the week of October 13 – 20, we took a large tour group on our Classic Week of Rivers whitewater kayaking and rafting trip in Costa Rica. Our group for the week included several veteran kayakers as well as a family with four kids ranging in age from eight to ten years. Here is a recap of an incredible trip with an awesome group of people. Read on to see what your trip to Costa Rica could be like.
Bringing the Family to Costa Rica
We were super excited to have a large group of travelers with us for the week, but one of the best things was seeing young kids wanting to learn to kayak and work on their roll. Before we met up with the family in our group, they had already spent a week enjoying the beaches, scenery, and wildlife around Manuel Antonio.
On days when the river was flat and mellow, our group of expert guides gave the kids and beginner kayakers instruction on how to roll, river safety, and general kayaking. This allowed everyone to enjoy the rivers and improve their skills. For the days that we did more intense Class IV rivers, we scheduled other activities for the kids and their mom, such as horseback riding, visiting a butterfly farm, and much more. See some of the activities we can plan for non-kayakers here.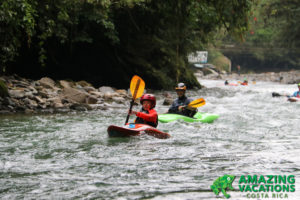 This is just one example of how we tailor trips to the skill levels of all our travelers to make sure everyone is able to get the most from their time in Costa Rica.
Exploring Costa Rica's Rivers
Paddling the Week of Rivers trip started by kayaking and rafting on the Pequibaye River. We were able to paddle both the lower and upper sections of the river. After that, we moved to the Sarapiqui river for the next two days. We paddled the Upper Upper section of the Pacuare and then finished the week by paddling into the Pacuare Outdoor Center (a.k.a. Jungle Camp) and rafted out the final day on the Class III and IV section of the Lower Pacuare.
The Perfect Trip for Class III Kayakers
This really is the perfect trip for Class III kayakers who are looking to improve their skills and challenge themselves on a few Class IV rapids. There are a few rapids that you may choose to walk around, but you're sure to get lots of tips and personalized instruction to help you improve your paddling ability and correct bad habits you might have picked up on the river.
Our guides are all ACA Kayak Instructor certified and have worked as instructors at the famous Otter Bar kayak school as well as other kayak schools in the United States.
We had an amazing time and so did our guests. For more information about our upcoming schedule of river trips, visit our Upcoming Trips page. If you want to speak to a vacation expert, reach to us at (801) 389-7324 or sales@amazingvacationscostarica.com.
Enjoy some of the photos from the week below.