Caribbean Week of Kayaking
Early bird discount applied if signing
up at least 12 months in advance
Trip Includes
What's Not Included?
Airfare
Tips and Gratuities
Alcohol
Non Paddler Options are an extra cost for transportation
Two AMAZING Trips that every River person should have on their bucket list!
People ask us all the time which trip we recommend. We suggest doing both the Caribbean trip and the Pacific trip. We've listed some notes on our Classic Caribbean trip below, but all of our trips are fantastic for Intermediate and advanced paddlers. Both our Caribbean and Pacific trips include the famous Pacuare River and overnight trip at the Pacuare Eco-Lodge that our guides often refer to as "Jungle Camp". 
The Pacuare Eco-Lodge is in the middle of the jungle but boasts world-class accommodations, stunning landscapes, and an incredible experience. Don't let the name of "camp" fool you. The ecolodge has private bungalows, warm showers, flush toilets and a gourmet chef's kitchen where the guides will cook up their best recipes while you dine by tiki torch and candlelight.
"The Classic" Mountain and Jungle Rivers of Costa Rica Whitewater Kayak & Rafting Trip
Class II, III and Optional Class IV – Best Trip for Beginners
Prepare to float the rivers that our guides grew up on. These rivers all sit on the Eastern half of Costa Rica and run through the mountainous regions. You'll experience eco-lodges in the middle of the jungle as well as many farm areas that are still untouched from the tourist traffic that you'll find in many other areas of the country. 
While you paddle the famous Pacuare river, hitting more than 52 rapids, our guides will show you the best lines, points of interest, and hidden gems that only locals know.
Our guides have been running kayakers, whitewater canoes, and rafters on this trip for over 15 years. This is an all inclusive trip from the time we pick you up at the SJO (San Jose) Airport until we drop you back off at the end of the week.
If you've never been on a Costa Rica river, this is the trip we recommend starting with. It's the perfect trip for a class III-IV boater that is looking to take their skills to the next level. It's also perfect for beginning kayakers. The structure of this is such that the more experienced kayakers can do a completely different section of a river than beginners, allowing everyone to feel successful at the end of each day.
Along with paddling Costa Rica rivers, this trip includes an overnight stay at our famous Eco-Lodge that our guides refer to as "Jungle Camp". The Pacuare Eco-Lodge in the middle of the jungle boasts world-class accommodations, stunning landscapes, and an incredible experience. Don't let the "camp" name fool you. The lodge has private bungalows, warm showers, flush toilets and a gourmet chef's kitchen where the guides will cook up their best recipes.
If you've kayaked in Costa Rica before or known someone who has, this is most likely the river trip they experienced.
Why Kayak Costa Rica with Amazing Vacations?
All guides have 10+ years experience and are ACA Certified
Brand new kayaks & equipment
All inclusive Small Group trips
Many sections of rivers we paddle aren't offered by other companies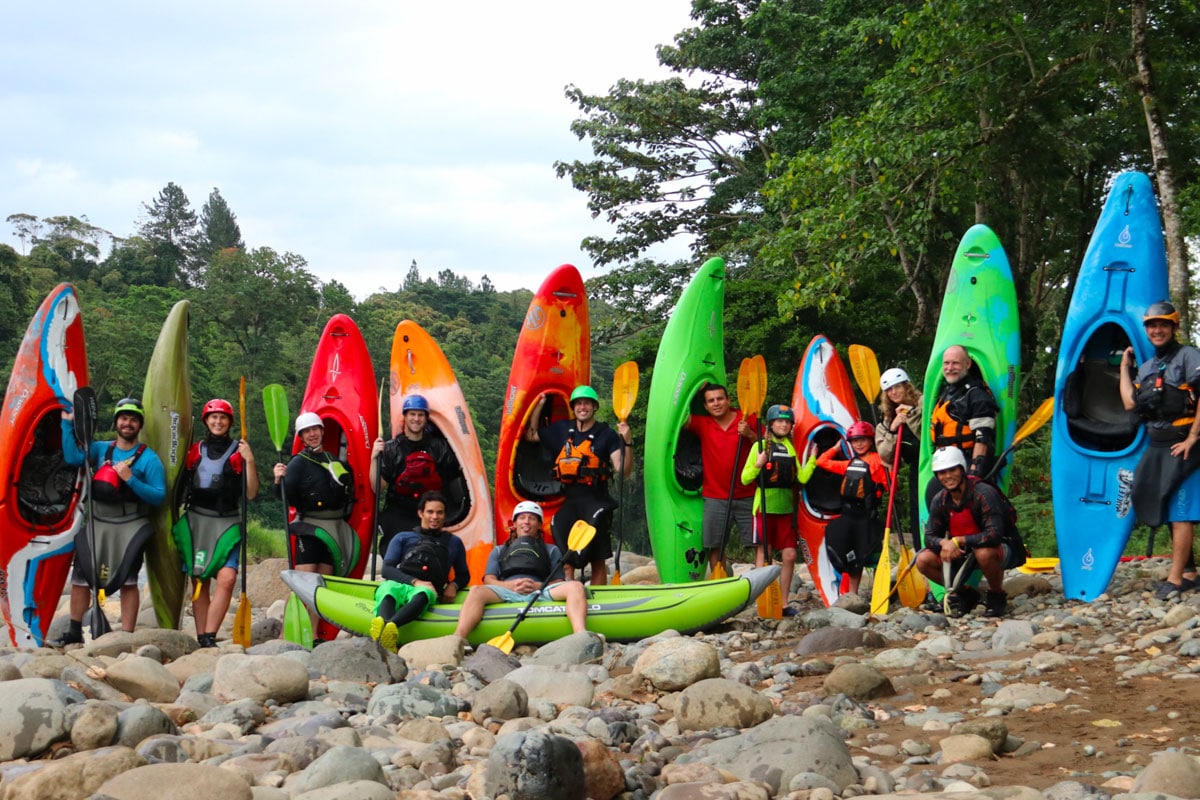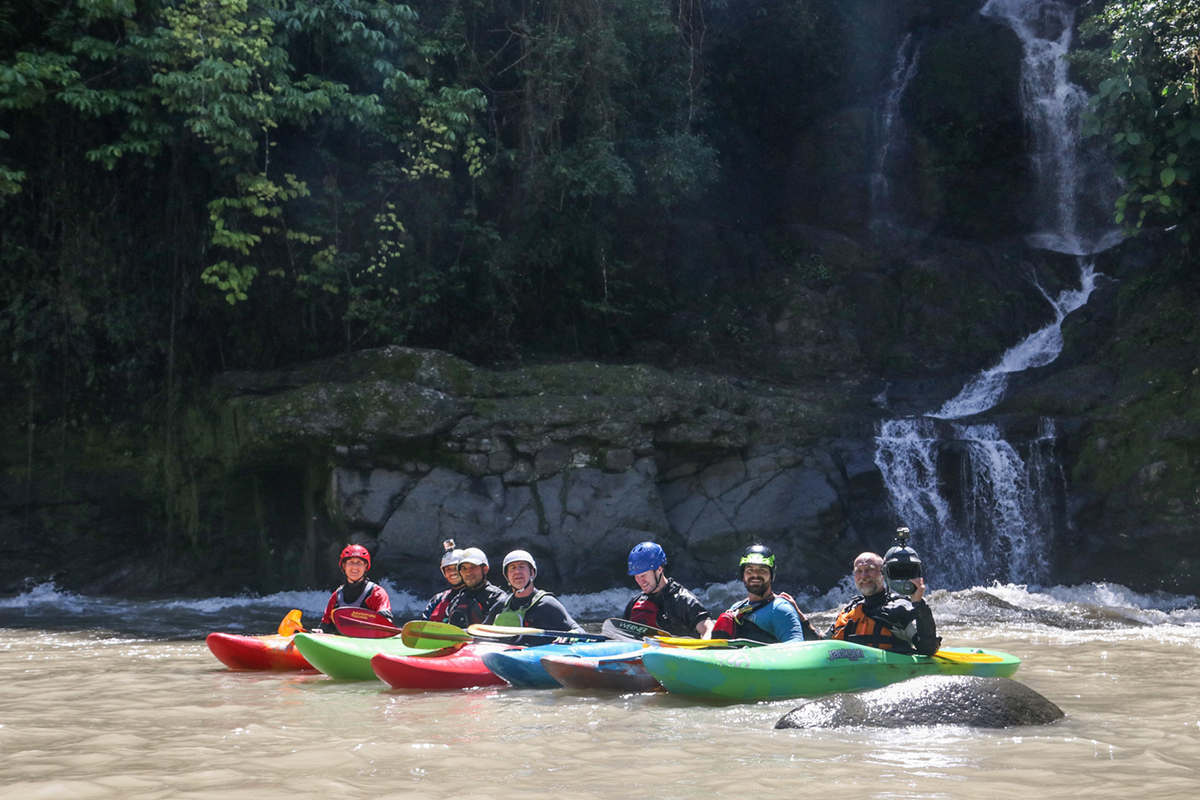 Schedule of Trips and Prices
We are constantly running river trips year round. While we have some set dates for each trip, we can almost always make your trip dates work if you need flexibility with when you travel. If you don't see a date listed, please check with us because we are always running custom trips and can often combine with an existing group. There are rivers running 12 months out of the year in Costa Rica. Also, a hybrid combination of some of our trips mixed with some site seeing can make for the best kind of vacation, with amazing locations and plenty of time having fun on the river. We are always helping people plan custom trips, so talk to us if you'd like to create your own trip plan that also includes time paddling.
Caribbean Rivers Trip Itinerary
Arriving in Tropical Paradise
You'll fly into (SJO) San Jose, Costa Rica.
We work with a small bed and breakfast called "Your House" in San Jose that is about 5 minutes from the airport. Because we have multiple people coming in during a 4-5 hour period of time, we want to make it comfortable for everyone.
We have arranged to have our friends at "Your House" pick you up and take you to their location so you can relax in a hammock, have a drink or snack, and wait comfortably for the others. There is a nice area out back and couches and lounge areas for you to wait for the rest of the group.
From there we'll transfer to the B&B in Turrialba (you'll get more detailed information)
Outfitting & Rio Pejibaye - Lower (Class II+) with optional Upper (Class III, IV-)​
This is the river that most of our guides learned to paddle on. You'll start out with an easy run with some fun surfing waves and just enough to challenge some people in the group. Your first run will allow the guides to understand the ability levels and needs of the group in a more controlled, less remote environment.
You'll eat lunch along the river and then depending on the makeup of the group, you'll likely head to an upper section of the river that is completely covered in jungle canopy for certain spots along the river.
Travel North to Rio Sarapiqui (Class II, III)
We'll travel up North to the Sarapiqui River. This is a great river for both beginners and intermediate boaters. Lots of spots to surf and play on the river today. 
Your guides will be right there with you enjoying your day as you navigate the rapids of the Sarapiqui River.  If the group needs to be split into ability levels, that is an option and all are sure to have a fun an enjoyable day.   You will be challenged and succeed as you travel this great river.
After the river we will have dinner and stay the night in Hotel Ara ambigua.
Rio Sarapiqui Upper or Lower (Class II or III+/IV-)
Wake up to the beautiful flowers and hummingbirds on the grounds of the hotel for our second day on the Sarapiqui. Today we'll put in at Superman or La Virgen upper sections that you likely didn't do the day before (depending on skill level). 
We'll guide you through fun and challenging rapids and point out the scenery that sometimes includes monkey, iguana, toucan and macaw sightings! After the river we'll enjoy lunch at our favorite local restaurant right on the river. 
We then head back to Turrialba. Once we get back to the B&B we'll enjoy family style dinner from our private chef and relax.
Pacuare River to Eco-Lodge
(Class III)
This 24 kilometer (17 miles) class III/IV section is your paddling gem today. This is the most popular run on the Pacuare, often said to be one of the top five river sections in the world. We will put-in a bit higher than other groups and enjoy an additional 4 kilometers of whitewater as we paddle to our riverside Jungle Lodge. The rapids on this day are fun class II and III. To spend a night along the shores of the Pacuare river is an experience every person should enjoy at least once in their lives. We'll light the camp with candles and prepare delicious tropical cuisine. The camp is complete with flush toilets, warm showers, raised platform tents with comfy mattresses and fully landscaped grounds.
Lower Pacuare River
(Class III & IV)
Wake up to the sound of Toucans and the jungle mist snaking its way up the canyon in the morning. You'll eat a delicious breakfast and enjoy the last of jungle camp. This section of the Pacuare winds through the beautiful and exciting Huacas Canyon with several Class III-IV rapids. 
After the canyon it mellows out and then picks back up before a nice Class II-III paddle out to the Caribbean flatland town of Siquirres where we take out. Paddlers who are not feeling up to the harder rapids will experience all these thrilling class III and IV rapids in a guided raft. We then return to Turrialba to enjoy our last dinner together and last night in Costa Rica.
Upper Upper Pacuare
(Class III+/Optional IV)
For those boaters who have proven they can safely handle Class III rapids in their kayak, this is a step up.
Very few people paddle this section of river because of how remote it is. Expect to see no more than two buildings and two bridges during the day. Traveling in a raft will be an option if you don't feel ready. 
There is one class IV rapid today called "Por Donde Me Voy" that at many kayakers choose to walk around. This is often one of the favorite days for our groups who are looking for big, fun water in the middle of the jungle. 
Transfer back to San Jose or Extend your Trip
We say our good-byes at the airport and we start making plans for your return to Costa Rica!
**We do our very best to adhere to the specific itinerary listed above, but activities and locations may be subject to change due to a number of reasons beyond our control (i.e. weather, water levels, road and safety conditions).
All Inclusive Costa Rica Kayaking Trip
The Costa Rica Caribbean Kayaking trip is ALL-INCLUSIVE from the time we pick you up at the SJO Airport until we drop you off.
All transportation, food, and lodging is included in the price of the trip. You will stay in some of our favorite hotels, eat at our favorite restaurants, and have a driver for the duration of the trip for one low price.
Paddle Costa Rica's Best Rivers
You'll have a chance to paddle world-class sections of whitewater during this amazing week on Costa Rica's rivers.
Our trip includes different sections of river on our three favorite rivers on the Caribbean side of Costa Rica. You'll experience Class III rapids with some optional Class IV sections of river throughout the week.
Depending on water levels, you will have a chance to paddle on the Pequibaye, Sarapiqui, and multiple sections of the Pacuare River. We also have several other river options that are available as Plan B and C options throughout the week as well.
Gear, Food, and Lodging
While on this week of rivers trip, you can look forward to excellent meals from our guides and some nights from our private chef. Enjoy gourmet and traditional meals, all the tropical fruit Costa Rica is known for, and the local's only secret recipes.
You will stay in top rated hotels and eco-lodges while on this trip. When you're not on the river, you can relax by the pool, use wifi (Fast enough for Skype video calls), or just kick back and enjoy the scenery. When you are driving, we provide a mobile wifi hotspot in the vehicle, so you're almost always connected (if you want to be).
You can also take advantage of our new fleet of kayaks and gear. We purchased over 20 kayaks brand new in late 2018 for you to use. Our fleet includes new boats from Dagger, LiquidLogic, and Jackson. You can see the entire list here.
What Kayaking Ability Level Is This Trip For?
This trip is perfect for kayakers of all ability levels. We've had people come on this trip that have learned to roll in a pool but never paddled a kayak on a river. We've had people raft with us that have never been on a raft. The majority of the people who join this trip will be Class II/III and some Class IV boaters.
We recognize that you may be a bit rusty with your roll and that's ok. We will work with you and organize the group based on ability levels.
Depending on the makeup of the group and on most days we will send the more advanced boaters a bit higher on the river and then have the beginners work one on one with a guide on a more mellow section of the river. This format has worked great and ensures everyone has a great time.
On some of the harder Class III+ and Class IV days, we always run raft support and some of our guests will typically choose to join the team on the raft. They always have a fabulous time. Our goal is to help you learn to be a better boater, have fun and feel comfortable on the water.
If you have a spouse or partner that does not kayak or raft, we are happy to build a separate itinerary for them that will keep them busy in the areas we visit and also include them on some of the river rafting days so they can still spend time with you.
If you have questions, please contact us and we're happy to talk with you more about which trip is right for you.
What to Expect Once You're Ready to Signup
When you are ready to book, we typically do a quick phone call and/or trade emails and texts with you to make sure you don't have questions about the trip. Once we finalize your dates, we will prepare a deposit invoice that will be emailed to you. You can pay online. We will schedule an email to be sent about 90 days prior to your trip to pay for the remaining balance on your trip. You'll also be able to pay online when that invoice arrives via email. 
Once you've paid your deposit, you'll get a series of emails and other communications from us to help you know what to pack, what to expect and how to prepare. You'll also get a final detailed itinerary with pickup times, phone numbers and all the details you'll need for sharing with your family back home who will jealously be watching you post facebook photos during your amazing trip.
If you have questions at any time, please contact us and we're happy to talk with you more about which trip is right for you. We have our team in Costa Rica as well as the support team in the United States that are here to help make this the best trip you've ever been on!
Can I bring a spouse, partner or family with me for the week?
YES! We have great options to keep spouses, friends and even kids super busy and having as much fun as you are having on the river. Just let us know if you need more info about options. There is an extra cost for transportation to the alternate activities.
What others saying about our week of Rivers Trips
Want to read more about some of the rivers in Costa Rica?
We're working on building a comprehensive guide of rivers in Costa Rica along with Walk-Through videos of each of the rivers so people can better understand what each river is like at different water levels. Feel free to check out the link and check back as we continue to build this resource for the paddling community.
"I've gone on week long trips guided by Walter and Arnoldo on four different occasions. They're a blast to paddle with. They are personable, knowledgeable, and expert kayakers, able to provide instruction and tips to paddlers of all levels, from basic paddle strokes to surfing skills or creeking moves. They take the hassle out of paddling overseas as they provide an easy, fun, and safety conscious experience. They know the rivers, where to stay and where to eat. I will definitely paddle with them again!"
"I'm a late in life paddler and have only been paddling for a few years and am a Class III to Class III+/IV- boater. I spent a week with Walter on the rivers of Costa Rica and it was one of the best paddling trips of my life. I always felt comfortable with the guides and they were right there to help if you got into trouble. The guides were great teachers on the river and great support. I highly recommend it to anyone who wants to have one of the best paddling trips of their life." The learning experience was wonderful. You'll have a week of intense instruction and I highly recommend the trip to everyone. The country is beautiful and I always felt safe. We had great accommodations. It's a wonderful experience from top to bottom. I'd go back in a heartbeat and I plan on going back this year."
"I worried about taking an international trip and also not being in shape for this type of trip. The guides were super aware of the abilities of each person in our group and adjusted the river trip to make sure that the beginner boater had a wonderful time while taking a second group of class III/IV boaters on amazing river runs. The guides were so patient and supportive of everyone. When we were paddling difficult rivers, they still included the beginner kayakers on a raft to ensure they continued to have a great time while staying safe. The logistics couldn't have been better and everyone had an amazing time."
"Walter and Arnaldo were great guides on and off the river. They made us feel welcome."