Learn It, Live It, Love It
Begin your journey with online Spanish lessons taught by our awesome Costa Rican guide staff.  Culminate your experience with a guided, Spanish-filled, cultural experience for everyone!
Start your trip with
Spanish Lessons
Kick off your trip right by learning a little of the language and culture from the people who are helping to plan and organize your trip!
From beginner to intermediate these small online classes will take you from where you are to where you want to go! Each class is designed with your goals and skill level in mind.
Our stellar bilingual team is incredible and they excell at getting you engaged in the culture and language. You'll develop a relationship with them before your trip and learn some Spanish and local phrases to use on your upcoming trip. It's a fun way to become immersed and learn from the locals here.
Before your first lesson you will meet with one of our teachers who will evaluate your level and goals and help place you in the class that will meet both. Class times vary and we attempt to accomodate all schedules.
Our classes are small with only 4 devices to a class and are only $25 a week for three lessons. Save more when you book 4 weeks or more of lessons.
Click a link below to send us an email letting us know when you'd like to start lessons, what days and times work for you, and we will get you connected!
Pura Vida!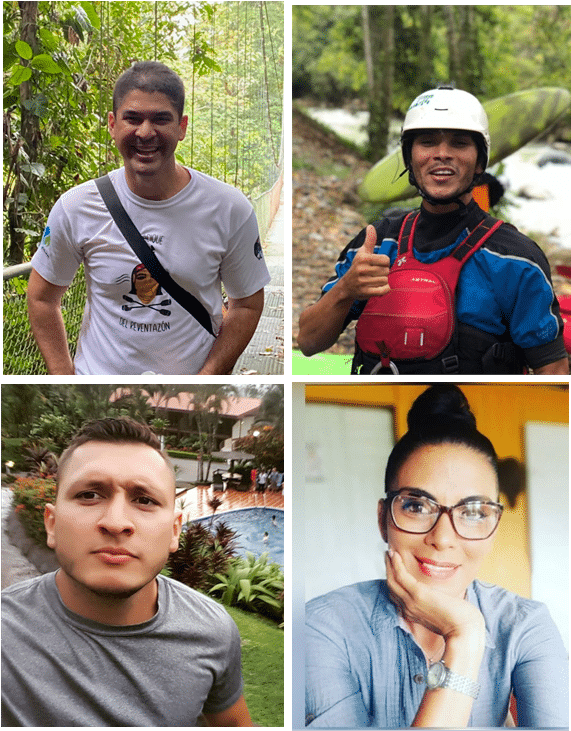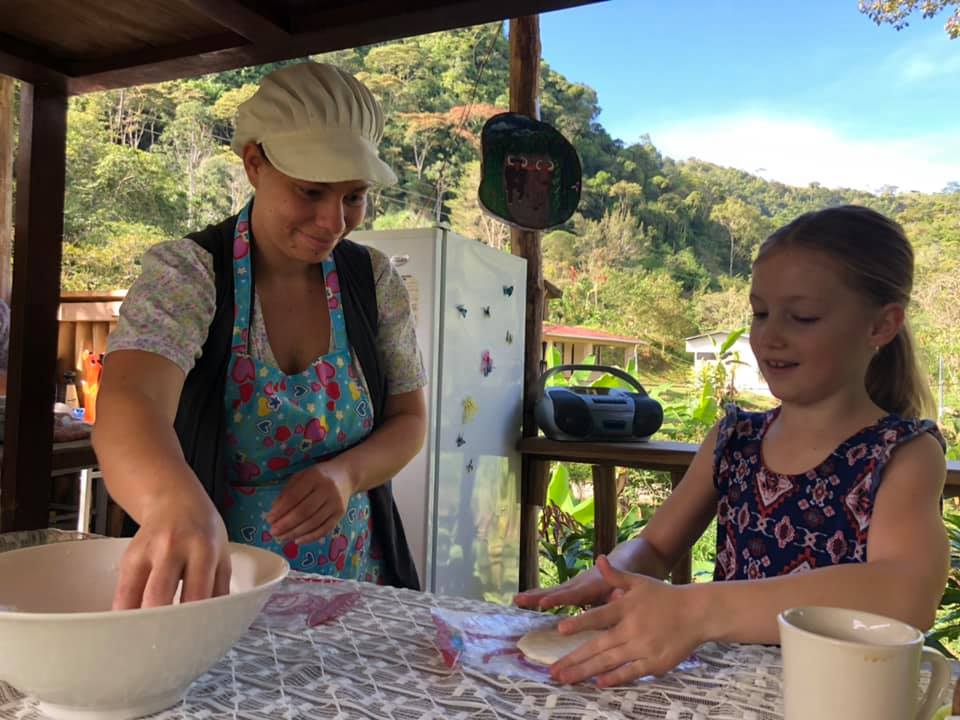 Immersion Trips Designed with Your Students in Mind
We've teamed up with some super knowledgeable folks – our local guide staff, and a family like yours – The Nielsons.  Kris and Neleh have been exploring Costa Rica with their three kids in tow for the past few winters.  They've pulled their students out of the normal grind of classroom education for three months, spent some time online schooling, and have helped their children grow into more worldly individuals by hands-on experiences with another culture.  
These featured Spanish Immersion Trips are designed for anyone who wants to take their Spanish learning to the next level.  The daily activities are some of our favorite kid and adult-tested local experiences specific to each area of Costa Rica.  Your Costa Rican guide will be with you every step of the journey and provide so much more information and personal experiences that you wouldn't get planning a trip like this on your own.  
Hands on learning allows your student to learn by doing instead of listening to a lecture or watching a video.  We find that our kids grow immensely from our field trip focused "vacations" all while producing lifelong memories as a family.
First, you'll increase your knowledge of Spanish with online tutoring from our native speaking guide staff prior to your trip. Formulate a relationship with your tutor and get excited to meet them upon your arrival in Costa Rica.  With the aid of your guide, use your newly improved Spanish in your daily travels across this fabulous country. 
Witness your knowledge of science grow as you interact with Blue Morpho butterflies, sugar cane fields, cacao and coffee plants. Learn that there's more to chocolate than the packaged Hershey's bar on the store shelf.  Experience the wonder of geology at the Arenal volcano, explore the eco systems that rivers like the Pacuare provide, and keep your eyes peeled for the myriad animals and birds that Costa Rica has to offer. 
Social studies comes to life with cultural interactions and observations as to how others live. Observe how students in Costa Rica get to school, what they wear to school, and what they must study.  See how the geography of each unique area affects how people make a living.  And most importantly, try all the delicious local foods and unique fruits – perhaps you'll even have the chance to make your own tortillas.
Physical education sneaks itself into your curriculum in the form of hiking, swimming, surfing, rafting, and more! So much more enjoyable than sitting in front of a computer screen. 
Register for Spanish Classes.  For $129 you receive a month's worth of Spanish lessons for up to two people on one electronic device.  For $297 you receive three months of Spanish lessons.  Savings of $90!    Over the course of these Spanish lessons you'll explore different places in Costa Rica and different locations practical to you.
 These Spanish tutorials are taught by our wonderful guide staff who would love to then meet you on your trip or even guide you down the river!  Fifty percent of your Spanish lesson cost can be applied to your future trip.  Lessons do not obligate you for travel.  You can just enjoy these amazing Spanish lessons with our Costa Rican team.  
Once you have your Spanish lessons started, take some time to explore all the incredible hands-on learning opportunities that the Nielson family and our Costa Rica experts have planned for you.  Pick your trip and contact us.  We will get the gears in motion for your educational vacation!  
Our staff will prep you for your getaway and you'll be met at the San Jose airport by one of our guide staff to begin your adventure.  Kick back and relax, you're in great hands!
5 Day/4 Night Packages starting at $1,523 per person
5 Day to 21 Day Trips Available
Includes Personal Guide, Transportation, Activities, and Spanish Lessons
We have found that families like to explore more than one location in Costa Rica.  Some families love the sand, sun, and surf of the beach whereas other families love the wet, wonderful, greenery of the jungle and mountains.  Some families want it all!  We don't blame them.  
Explore the four options below and pick as many or as few options that you'd like to explore with your family.  Each trip can work independently or partner with any of the other experiences to provide a longer adventure in Costa Rica.  We love partnering options to explore different geographies and eco systems of Costa Rica.  
History, Culture, & Whitewater
This six day trip is one of our personal favorites because it takes place in our backyard – Turrialba!  Our guides grew up in this area, picked the coffee from these fields, and grew up splashing in these wonderful rivers.  
The Nielson kids have picked some of their favorites in Turrialba to share with you from agricultural experiences, cooking classes, whitewater rapids, and some of the tastiest ice cream with the best views of the valley.  
Pacific Paradise & National Park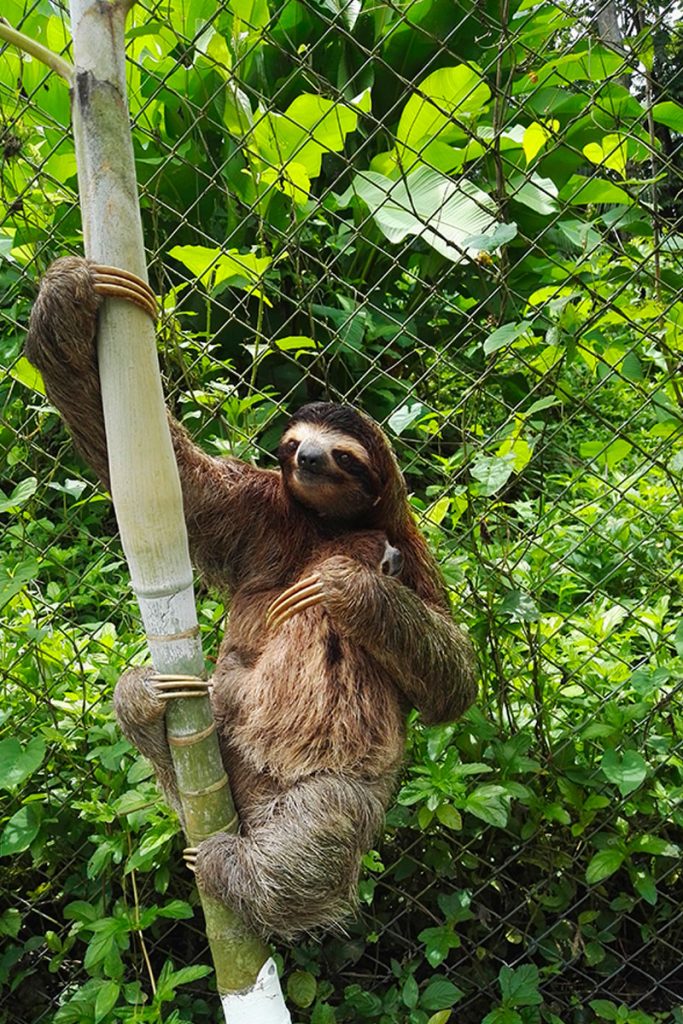 Explore the beauty of the Pacific Coast with this chapter of your Costa Rica adventure.  Get up close to rare squirrel monkeys, spy for sloths, and snorkel through colorful reefs. Try your luck surfing these beautiful Pacific waves and fall asleep each night to the sound of the ocean and the smell of the sea.  
These tried and true family favorites will expand the minds of your students while providing unforgettable memories that last a lifetime. 
Caribbean Coast & Wildlife Wonders
Explore the beauty of the Caribbean Coast with this fabulous five day getaway.  Your family will love the Jaguar Rescue Center and all the surrounding wildlife.  Explore the beauty of Cahuita National Park and snorkel in the park's famous reefs.  
The unique culture and history of the Caribbean coast juxtaposed with the stunning local National Parks allows for ample wildlife sightings while engaging in local treats. 
Hot Springs & Volcanic Dreams
The geological wonders of La Fortuna make this area magical.  From imposing fog covered volcanos, to fun hot springs with slides, to the abundance of waterfalls and wildlife, this area reigns as one of Costa Rica's most popular spots. 
Enjoy some of the Nielson's favorite spots in this area from chocolate tours, wildlife refuges, hot springs, and horseback riding.  You'll love the stunning views of Arenal Volcano.