One of the most common questions we get from kayakers coming to Costa Rica is "What can I expect on this trip?" That's a pretty broad question, but we'll try to answer it based on what we see from the many river trips we book. For this post, we're looking at it from the angle of what a kayaker can expect for the Week of Rivers trip.
We have made this trip as stress free as possible for you. Read on to see how.
Traveling to Costa Rica and Getting to Your Destination
Traveling to Costa Rica is pretty straightforward. There are flights from all over the country on many airlines to get you here. Deals can be had often to help you get here for a low price. Your U.S. passport should be valid for at least a year after your trip to avoid any problems. Costa Rica is friendly for American travelers and you should have no problems as long as your passport is current.
We've made getting to your destination in Costa Rica a snap. We'll have a driver at the airport waiting to pick you up. You'll travel from San Jose in a comfortable, air conditioned vehicle that will likely have a wi-fi hotspot so you can stay connected on your trip.
Getting Your Kayak and Paddle to Costa Rica
If you really (REALLY) wanted to bring your own boat and paddle to Costa Rica, there are ways to transport them on your flight. However, to make things easy, we have a fleet of top of the line kayaks for you to use from Dagger, Jackson, Liquid Logic, and Pyranna. We also have a variety of paddles for you as well. Any of these boats and paddles are ideal for kayaking Costa Rica's rivers. Plus, we will transfer them and you to each of your destinations.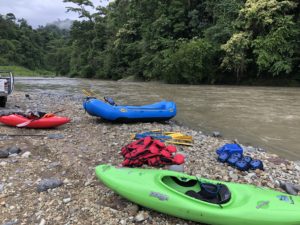 Booking Hotels and Restaurants in Costa Rica
We have truly taken care of everything. When you book the Week of Rivers trip, we will book all of your hotels and schedule meals as necessary. Some meals might be in hotels, some might be on the river's edge or in jungle camp, and others might be at some of Costa Rica's best restaurants. Regardless of where we are eating depending on the day, your meals will be taken care of. We will even work with any special dietary needs you might have to make sure your trip is as worry free as possible.
Kayaking Guides and River Safety
When we say our guides are some of the best in the world, we mean it. Our team consists of Costa Rica's top kayakers, coaches, triathletes, and more that are ACA Swiftwater Rescue certified. On top of their certification, these are the rivers our guides grew up on and they know them in and out. They can tell you if the water level is ideal, if obstacles exist, and the best lines to take for your skill level. They do all of this to give you the best possible river experience while keeping you safe.
Contact Us Today for More Information
If you still have questions about what to expect from kayaking in Costa Rica, contact us today. We offer FREE, no obligation trip consultations. One of our U.S. based representatives is ready to help.